The Design Conference and the state of our creative industry
Recently, Managing Director Amanda Munilla was invited as a keynote speaker to The Design Conference (TDC) in Brisbane. In its ninth year, the conference brought together a vibrant community of established design professionals, independent designers and artists, as well as students in high school and university via the TDC Futures platform. The conference is unique in its focus on the 'story behind the story' — encouraging presenters to tell their personal stories and discuss the challenges and successes they've seen in their careers. After three days of unpacking the dynamics shaping the creative industry, Amanda shares five key themes that emerged from this year's conversations:
Solving from all sides
In my keynote, "You can sit with us: A strategist at the design table," I shared my experience of growing up in this industry as a strategist — cultivating yourself as an interdisciplinary thinker and learning the value of partnership between strategy and design. At Wolff Olins, we say our biggest metrics of success are making work that's commercially viable, creatively distinct and culturally impactful, both within the organizations and out in the world. To do that, we have to bring specific expertise but also a wide worldview.
In an industry where we've all seen the same case studies, we have to constantly push ourselves to bring new thinking to the table. A huge part of that is combining collective experiences and points of view. One of the things I loved about TDC was the exploration of design in all its forms (defining design broadly, or what we sometimes call 'big D' design). We heard from strategists, graphic designers, product designers, illustrators, venture studios — you name it. It takes all of those types of thinking to crack the business and societal challenges we all see in the world.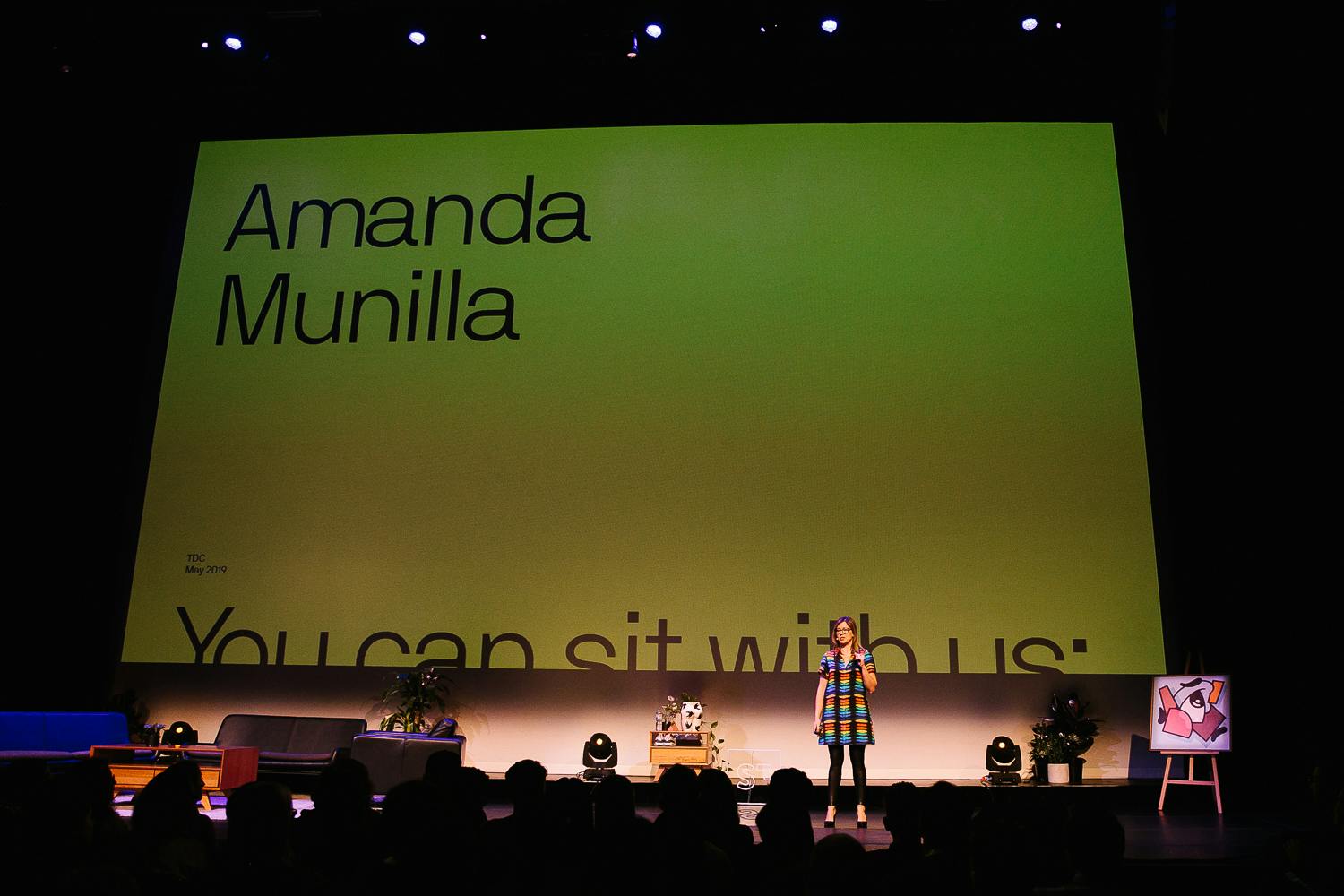 Money vs. creativity
At TDC, I sat on a panel called, "How can we get paid more to do what we love?" On the panel with me was Chris Do of Blind and The Futur, a platform that helps people learn the business of design. As a designer and educator, Chris is known for his outspoken views on making money in design. Joining us was Mercedes Bazan, an amazing illustrator who's earlier in her career. She spoke candidly about balancing her personal projects and developing her own profile while working full-time with Stripe in San Francisco.
A lot of the discussion and questions centered on the balance between making things you love and seeking client work to either build your bottom line or establish your profile. One salient piece of advice was to write the briefs you want to work on. By creating things that answer a need or help demonstrate your point of view as a designer, you can build your portfolio even before you build your client base.
Instagram-able content above all?
One notable feature of all big public events these days is the desire to make content shareable. In a scroll-by environment, having content that captures the key ideas onscreen is essential not only to getting your point across in your presentation, but to making it Instagram-worthy. The primacy of shareable content has downsides, but one of the upsides in my experience is that making things 'shareable' forces you to brutally edit and boil down the narrative to its sharpest ideas. (Special thanks to our Creative Director Chris Kline for making my presentation a standout on stage. One presenter even mentioned that he redid his slides after seeing ours!)
An interesting observation that emerged was how making content for social sharing has ushered in a return of typography on screen. Images don't always reproduce exactly how we want them in that kind of capture. But a pithy phrase is made for sharing. In fact, designers like Adam JK and Martina Martian have built huge followings sharing this kind of expression in social.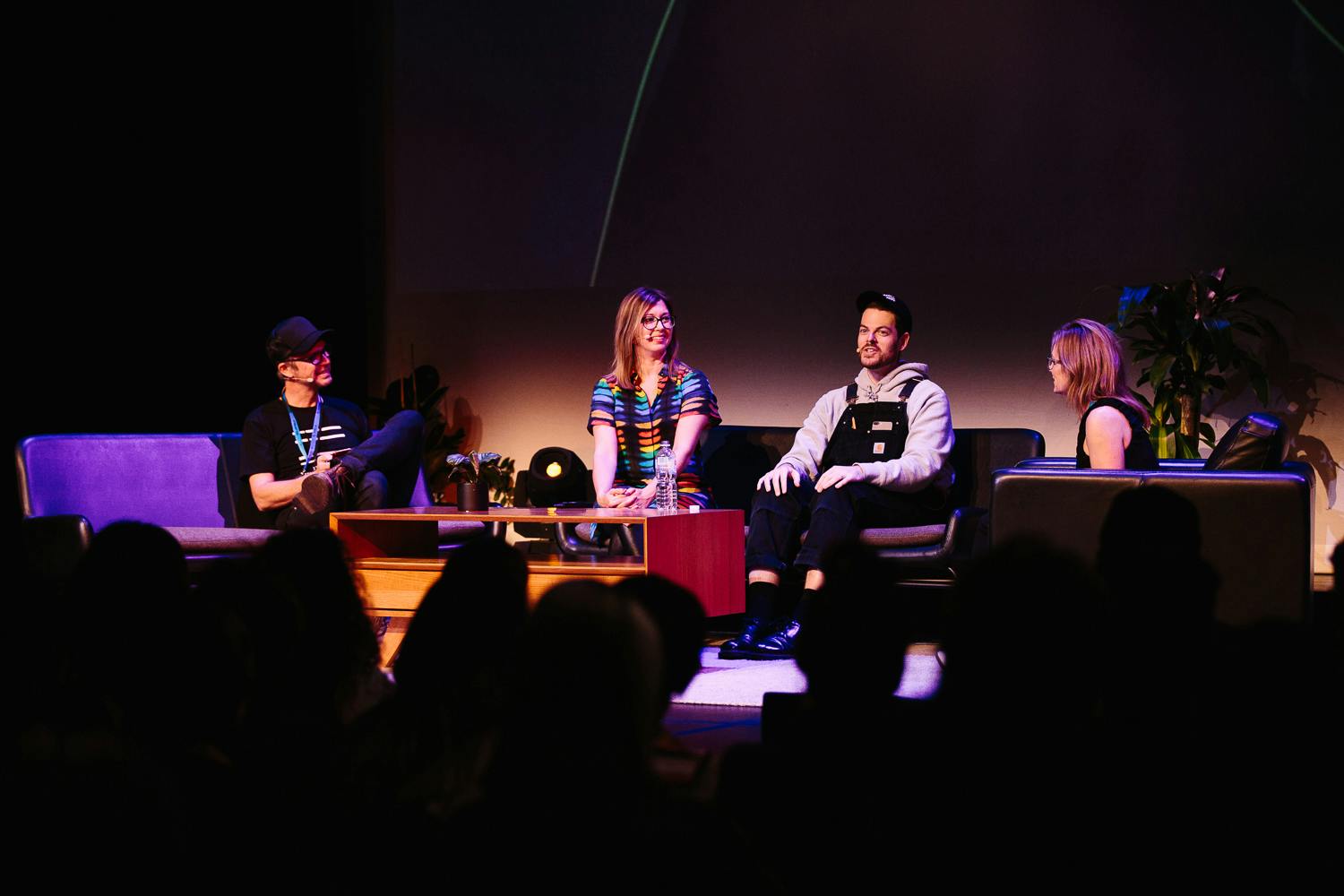 Women to the front
We heard from some amazing speakers, which included some exceptional female leaders. Sarah Sampsel from Work & Co., Yasmin Naghavi from Media Arts Lawyers, Tea Uglow from Google Creative Lab, Prue Jones from Fjord and Mirella Marie from Studio Vertigo to name a few. In addition to her own studio, Mirella also founded Womentor, an international mentor program for female designers where I currently serve as a mentor.
We talked a lot about how to support and grow great talent in the creative industry. I fielded a question onstage about Wolff Olins' prominent female leadership — from Sairah as CEO to the Managing Directors of our three hubs. I shared that I am absolutely proud of the merits of our leadership team, but that the search for diversity of thought never stops at gender or with a few visible leaders. See above about 'solving from all sides'!
Burning the candle, carrying the torch
Maybe the biggest theme at TDC was the state of mental health and wellbeing in the creative industry. Andy Wright of Streamtime and Never Not Creative has built a career in branding and knows a thing or two about deadlines and client pressures. He presented a study Never Not Creative undertook with social purpose organization UnLtd and the mental health nonprofit Everymind. The rates of stress, depression and anxiety among creatives they found were truly astounding. Just as Never Not Creative is leading that movement in the Australian design community, back stateside, I recommend checking out platforms like Made of Millions who are mainstreaming this conversation.
Both as practitioners and managers, it is imperative that we examine what we're asking of our teams and ourselves. I think we have so much work to do, but if there's an industry who knows how to design better solutions, this is it. We might just need more sleep and vacation first.
All photography courtesy of Callie Marshall
Back